Contact Us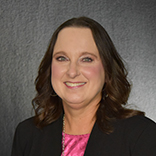 Sharese Hurst
Division Director
County Corrections
A-159
(936) 294-1687
sharese@shsu.edu
Sharese Hurst has been with the Correctional Management Institute of Texas (CMIT) since September 2000. Prior to working for CMIT, Sharese was employed with Walker County Community Supervision and Corrections Department for 10 years.
From 2000 to 2003, she was in charge of facilitating all of the certification programs and continuing education trainings for the Texas Drug Offender Education Program. In addition, Sharese provided secretariat services for the Texas Association for Court Administration.
In 2004, Sharese was named Executive Director of the Texas Jail Association (TJA). She coordinates two yearly conferences for TJA and maintains their membership data. Sharese is the editor of Key Issues, TJA's quarterly publication.
Sharese obtained a Bachelor of Business Administration degree in 1993 at Sam Houston State University. In 1995, she earned her Master of Business Administration, also at Sam Houston.