Scholarships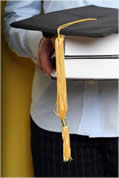 In an effort to promote academic advancement to the field, below are links to scholarship resources for individuals working in corrections.
To apply for these scholarships, complete an application online.
CMIT Scholarship
Sam Houston State University's College of Criminal Justice, in partnership with the Correctional Management Institute of Texas (CMIT), will provide scholarships for personnel in juvenile and adult institutional and community corrections agencies. CMIT will provide tuition costs each year for selected employees accepted into the Masters of Criminal Justice Leadership and Management Online/Weekend Programs.
Applicants for the scholarships must first be accepted into the MS in Leadership and Management program and be active professionals in the criminal justice field with a minimum of five years' experience. Continued financial support of selected students is contingent upon their maintaining at least a 3.3 grade point average and making satisfactory progress toward completing the degree program in two years.