Back to TJA Officers Ballot
3rd Vice-President Nominee
Dan Corbin
Chief Administrator, Lubbock County Sheriff's Office
Chief Corbin has been with the Lubbock County Sheriff's Office since 2003, following a career in the Air Force. Dan received his undergraduate degree from Northeastern University and an MBA from Wayland Baptist University. He is a Certified Jail Manager, graduate of the NJLCA, and possesses a Master Jailer Certificate.
Treasurer Nominee
Carla Stone
Assistant Chief Deputy, Kaufman County Sheriff's Office
Carla has been employed with Kaufman County Sheriff's Office over 28 years. She holds a Master Jailer License, along with a Peace Officer License. Carla has been serving as the Jail Administrator since 2000. She has been the Treasurer for the Texas Jail Association since 2012.
Director Nominees
Debby Alaniz
Assistant Jail Administrator, Hale County Sheriff's Office
Debby Alaniz works for the Hale County Sheriff's Office where she has worn many hats. She has served as dispatcher, jailer, instructor, and is currently the Assistant Jail Administrator. She holds a Basic Peace Officer License. Debby is on the HCSO Gang Task Force, TGIA, and TVGTF.
Becky Caffey
Chief Deputy of Corrections, Brown County Sheriff's Office
Becky began her career in 1988 as a dispatcher. She worked her way through the ranks of jailer through Jail Administrator and in January of 2017 was promoted to Chief Deputy of Detentions. She holds a Master Jailer and Master Peace Officer License. She is also a Certified Jail Manager through the American Jail Association. Becky is currently serving on the Board of Directors with the Texas Jail Association.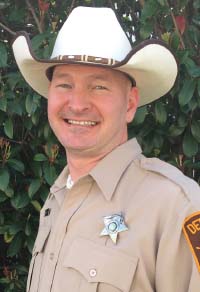 Cody Greinke
Corporal, Guadalupe County Sheriff's Office
Cody has been with the Guadalupe County Jail for eight years. Within that time, he has acquired his Advanced Jailer License and became Corporal. He has also been a part of the Special Emergency Response Team and a Gang Officer.
Edwardo Jackson
Sergeant, Travis County Sheriff's Office
Edwardo has been employed with Travis County for over 16 years. He is assigned to Courthouse Security and holds a Jailer and Peace Officer License. Edwardo worked in the jail as a security coordinator and a corrections officer in various assignments. He has been active in the Field Training Officer program.
William Phariss
Sergeant, Grimes County Sheriff's Office
William has served the Grimes County Sheriff's Office since 2013 and has over 10 years' experience in corrections. He holds an Advanced Jailer certificate. For the past three years, he has served as Chair for the TJA Technology Committee implementing the conferences' mobile app. William hopes to further serve TJA.