Texas Risk Assessment System (TRAS) Implementation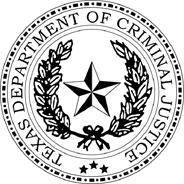 In September 2013, the Correctional Management Institute of Texas, in collaboration with the Community Justice Assistance Division (CJAD) of the Texas Department of Criminal Justice conducted a live internet broadcast. During this live internet broadcast titled TRAS Implementation, Carey Welebob, Director of CJAD was the moderator of a panel to discuss implemenation strategies for the new TRAS risk assessment. Panelist included Dr. Teresa May, Director for Harris County CSCD; Dr. Brian Lovins, Assistant Director for Harris County CSCD; Christopher Thomas, Director for Jasper, Newton, Sabine, and San Augustine Counties CSCD; Terry Easterling, Director of Potter, Randall, and Armstrong Counties CSCD, and Roxanne Marek, Director of Wharton and Matagorda Counties CSCD.
Meet our Panelists
Carey Welebob currently serves as the Director of the Texas Department of Criminal Justice – Community Justice Assistance Division and has more than 24 years of service with the State of Texas. As division director, Carey has worked with the field of community supervision to weather a $10 million shortfall and helped unify a decentralized community supervision system around common state goals emphasizing public safety, accountability and results. Carey has also helped lead the community supervision assessment project as a state co-chair while working with the agency on its assessment initiative.
Dr. Teresa May is the Director of the Harris County CSCD, and former Deputy Director of the Dallas County CSCD. She has sixteen years of experience in criminal justice and has worked extensively in the development, operation, implementation, and evaluation of a number of evidence-based programs (EBP) in criminal justice and problem-solving courts. Dr. May is a licensed psychologist and serves as an expert trainer in evidence based practices both nationally and across the State of Texas. She is currently leading a statewide initiative to validate and norm a new evidence-based risk assessment tool for the State of Texas. Dr. May received her Ph.D. from Southern Methodist University and has been an adjunct professor at the University for over ten years, teaching Forensic Psychology, Personality Psychology, and Behavioral Action of Drugs.
Dr. Brian Lovins is the Assistant Director of the Harris County CSCD. Prior to his transition to Houston, he was the Associate Director of the University of Cincinnati Corrections Institute. His work at the School of Criminal Justice has included developing a state-wide juvenile risk assessment (Ohio Youth Assessment System: OYAS) and an adult risk assessment (Ohio Risk Assessment System: ORAS), as well as redesigning juvenile and adult correctional programs to meet evidence-based standards. Dr. Lovins has presented to over 100 agencies and routinely trains agencies in the principles of effective intervention, risk assessment, and the delivery of cognitive-behavioral interventions.
Christopher Thomas, a native of Jasper, Texas, graduated from Texas A & M University in 1993 with a Bachelor of Science degree in psychology. Chris supervised the high risk caseload for the majority of his career, and was responsible for all sex offender registration and public notification. In addition, to his work in the courts and supervision, he served as the CSCD's Computer Liaison and was responsible for the department's upgrade to its current web-based system. In December, 2008, Chris was appointed to serve as the Director of the 1st Judicial District CSCD. He continues to work in this capacity and has been instrumental in bringing evidence-based practices into the department. In addition to various association work, Chris also serves on CJAD Field Committees for the Community Justice Plan and Fiscal Issues.
Terry Easterling is a 35 year veteran of the Texas adult probation system. He began his career in 1978 as a misdemeanor probation officer in the 47th Judicial District. After several years of increasing responsibilities, in 2001 he was appointed as Director for the Potter, Randall, and Armstrong Counties C S C D . Throughout his three decades of service, Terry has served as a member and advisor on numerous committees and boards including the Board of Directors for the Texas Corrections Association and as Region 9 Representative to the Probation Advisory Committee. He is currently the Immediate Past President of West Texas Area Chief Probation Officers Association.
Roxanne Marek currently serves as the director of Wharton and Matagorda County CSCD. Her many years as an adult probation officer and unit supervisor have given her the experience needed for this position. She serves on many CJAD Field Committees, including the SAFPF, MHMR MOU, and Substance Abuse Standards Committee. Ms. Marek has also published articles in the TPA, TCA, and APPA Journals.
For more information or to request Technical Assistance, contact Doug Dretke at 936-294-1675 or djdretke@shsu.edu