Finding the Point with Evidence Based Practices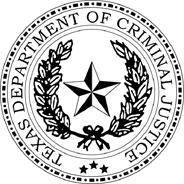 In September 2012, the Correctional Management Institute of Texas, in collaboration with the Community Justice Assistance Division (CJAD) of the Texas Department of Criminal Justice conducted a live internet broadcast. During this live internet broadcast titled Finding the Point with Evidence Based Practices, Dr. Christopher Lowenkamp addressed the implementation of evidence based practices in CSCDs by making practices and programs such as Motivational Interviewing, EPICS, etc. a part of the department's overall organizational culture. Carey Welebob, director of CJAD was the moderator of the panel which included Mike Wolfe, CSCD Director from Taylor, Callahan, and Coleman Counties; Caroline Rickaway, CSCD Director from Brazoria County; Leighton Iles, CSCD Director from Tarrant County; Judge John Creuzot, Criminal District Court No. 4, Dallas County, and Judge Rose Guerra Reyna, 260th District Court, Hidalgo County.
Meet our Panelists
Carey Welebob currently serves as the Director of the Texas Department of Criminal Justice – Community Justice Assistance Division and has more than 24 years of service with the State of Texas. As division director, Carey has worked with the field of community supervision to weather a $10 million shortfall and helped unify a decentralized community supervision system around common state goals emphasizing public safety, accountability and results. Carey has also helped lead the community supervision assessment project as a state co-chair while working with the agency on its assessment initiative.
Christopher T. Lowenkamp has served as the director of the Center for Criminal Justice Research and the associate director of The Corrections Institute at the University of Cincinnati. He also held the positions of research associate and research professor at the University of Cincinnati. Chris served as a probation officer and jail emergency release coordinator in Summit County Ohio and as a probation administrator with the Office of US Probation and Pretrial Services. He is currently a lecturer at the University of Missouri-Kansas City and a consultant working on multiple projects focusing on issues in pretrial and training for community supervision officers. He is the co-author of EPICS-II, STARR, EPICS, and the ORAS and two cognitive behavioral curricula for offenders. He is the author of the Post- Conviction Risk Assessment and the Pretrial Risk Assessment that are in use in the Federal Probation and Pretrial Systems. In an effort to close the knowing-doing gap, Chris has been involved in training thousands of correctional staff in effective staff practices and risk assessment.
Leighton Iles has over 23 years of experience in adult probation and is currently the Director of Tarrant County Community Supervision and Corrections Department, where he has been employed since August, 2009. Prior to moving to Tarrant County, he worked as Director for Fort Bend CSCD where he was employed for twelve years. Leighton previously worked for CJAD at TDCJ in substance abuse programming and started his career in Austin Texas as a probation officer for Travis County Adult Probation. In October 2007, the presiding judge of the Court of Criminal Appeals appointed Leighton member of the Judicial Advisory Council to the Texas Department of Criminal Justice.
Judge Rose G. Reyna was sworn in as Judge of the 206th Judicial District Court of Hidalgo County, Texas on January I, 1999. Prior to becoming judge, she practiced law for over 15 years. In her practice, she represented clients on civil matters at the trial court level in state and federal courts, argued before the 13th Court of Appeals, and the Texas Supreme Court.
Judge Reyna has been involved in various non-profit organizations and community organizations and has received various recognitions and awards for her outstanding work personally and professionally. She is also a frequent speaker at local schools from elementary school to the college level on various topics.
Mike Wolfe is Director of the Taylor County Community and Supervision Correction Department in Abilene, Texas. He is Chairman of the Texas Probation Advisory Committee that fosters improvement of local community corrections programs. Mike was appointed by the Lieutenant Governor to the Texas State Council for Interstate Adult Offender Supervision. Prior to joining Taylor County CSCD, Mike served as Deputy Director of TDCJ's Parole Division, Chief of Staff of the South Carolina Department of Corrections, and Deputy Secretary of the Florida Department of Corrections.
Judge John Creuzot graduated from Southern Methodist University School of Law and began a career as an Assistant District Attorney in Dallas, Texas. Judge Creuzot achieved the rank of Chief Felony Prosecutor, where he supervised a team of Assistant District Attorneys as well as presenting cases to numerous Grand Juries and prosecuted death penalty cases.
Judge Creuzot is nationally recognized as an expert in drug courts, criminal justice reform and evidence-based sentencing. His initiatives include the founding of Dallas County's first drug court, the Dallas Initiative for Expedited Recovery and Treatment Court, DIVERT Court. Jude Creuzot's accomplishments have been recognized and honored by numerous organizations and he has received numerous awards for his work in Texas and across the country. Judge Creuzot has been a long-standing member of the Judicial Advisory Council.
Caroline Rickaway was appointed as a Brazoria County Adult Probation Officer in 1980 and is now the Director of the Brazoria CSCD. Caroline is currently serving as the Region 12 (Texas) Representative to the American Probation and Parole Association Board of Directors and is the Co-Chair of the APPA Judiciary Committee.
For more information or to request Technical Assistance, contact Doug Dretke at 936-294-1675 or djdretke@shsu.edu