The Correctional Management Institute of Texas, created in 1994, is Enhancing Corrections in adult and juvenile community and institutional corrections agencies by providing the following:
Training Variety – a broad range of professional development programs and initiatives.
Value, Quality and Relevance – high quality and relevant professional training.
Assistance to the Field – technical assistance and direction.
Field Research – research and program evaluation of interest practitioners and policymakers.
Featured Trainings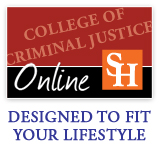 SHSU offers quality degree programs that set the standard for education and scholarship in the study of crime and criminal justice. Learn from internationally renowned faculty and gain scientific knowledge and critical thinking skills that will help you achieve a competitive edge. We have degree programs that will fit your lifestyle and career goals.
Date: June 4-7, 2013
Location: San Luis, Galveston, TX
Cost: $215.00
Hours: 20
Topics: "Can you Afford Leadership", "The Happiness Case Plan", "Understanding Change", "The Tribology of Leadership", "Wellness", "New Work Habits...New Attitude"
Date: June 17-21, 2013
Location: Bandera, TX
Cost: $325.00
Hours: 26
Topics: Harmony in the Workplace, Understanding & Managing People, How to Eat an Elephant, Cultural Diversity, Ethical Legacy, The Leadership Toolbox, Legacy Leadership
Date: May 28-29, 2013
Location: SHSU, Huntsville, TX
Cost: $185.00
Hours: 16
Topics: Respoding during a crise, Managing the courtroom in a professional manner, Where individual authority comes from, Rights of victims, the defendants, the gallery, and the media
Date: June 2-5, 2013
Location:San Antonio, TX
Cost:Various
Hours: 19.5 Possible
Topics: Domestic Minor Sex Trafficking, Sex Offender Registration, How Youth move through TJJD, Ethics, plus more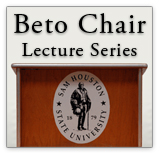 The Beto Chair series is a collection of special presentations given for the benefit of our Graduate, Under Graduate, and Faculty by distinguished academicians from around the world. By clicking the picture, you will be able to access formal and informal presentations from the 1980's through 2006.