The Correctional Management Institute of Texas, created in 1994, is Enhancing Corrections in adult and juvenile community and institutional corrections agencies by providing the following:
Training Variety – a broad range of professional development programs and initiatives.
Value, Quality and Relevance – high quality and relevant professional training.
Assistance to the Field – technical assistance and direction.
Field Research – research and program evaluation of interest practitioners and policymakers.
Featured Trainings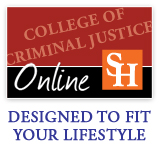 SHSU offers quality degree programs that set the standard for education and scholarship in the study of crime and criminal justice. Learn from internationally renowned faculty and gain scientific knowledge and critical thinking skills that will help you achieve a competitive edge. We have degree programs that will fit your lifestyle and career goals.
Date: January 27-31, 2014
Location: Huntsville, TX
Cost: Free
If you were recently appointed to the position of Chief Deputy in your county, pleae consider participating in this program. This cource will provide a wealth of information about operating a jail and an opportunity to network with your peers.
Date: January 28-31, 2014
Location: Austin, TX
Cost: $235.00
Hours: 20
Topics: Homeland Security War on Gangs, The Emerging Threat of Mexican Drug Cartels, Prison Gangs, Tattoss, & Structures, Humas Trafficking, Juvenile Street Gangs, Mexican Organized Crime, plus more!
Date: January 29-31, 2014
Location: Fort Worth, TX
Cost: Member $175; Non-Member $210; Late Fee $15
Hours: 18.75
Topics: Check back later for details!
Date: April 28-May 2, 2014
Location: Huntsville, TX
Cost:$550
Hours: 28
Topics: Provides a forum for Wardens to network with peers, Discuss current management and direction of prison operations and programs; Identify and discuss critical issues facing prison management, and more
In September 2012, the Correctional Management Institute of Texas took a big step forward in the use of technology and hosted its first live internet broadcast. The broadcast was such a success, CMIT has determined this is a great resource to the field and will continue to host internet broadcasts. Each broadcast will be recorded and once edited, it will be placed on the website for those that may have missed the broadcast to view or those that need to view it again.