The Correctional Management Institute of Texas, created in 1994, is Enhancing Corrections in adult and juvenile community and institutional corrections agencies by providing the following:
Training Variety – a broad range of professional development programs and initiatives.
Value, Quality and Relevance – high quality and relevant professional training.
Assistance to the Field – technical assistance and direction.
Field Research – research and program evaluation of interest practitioners and policymakers.
Featured Trainings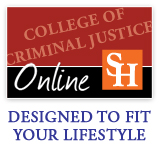 SHSU offers quality degree programs that set the standard for education and scholarship in the study of crime and criminal justice. Learn from internationally renowned faculty and gain scientific knowledge and critical thinking skills that will help you achieve a competitive edge. We have degree programs that will fit your lifestyle and career goals.
Date: April 27 - May 1, 2015
Location: San Antonio
Cost:$350
Hours: 35
Who Should Attend:Support Staff, Community Corrections, Community Supervision Officers, Juvenile Probation Officers, Administrative Staff, Parole Officers
Date: March 29 – April 3, 2015
Location: Huntsville, TX
Cost: None
Hours: 40
Who Should Attend: CSCD and TJJD
Date: March 30 - April 2, 2015
Location: San Antonio, TX
Cost: $225
Topics: Courtroom Testimony, CJIS, Customer Service, Stepping Outside the Box, Customer Service, Career Building, Mental Health, Human Trafficking, Stress and Wellness, plus much more.
Date: April 12-17, 2015
Location: Huntsville, Texas
Cost: $150
Hours: 40
Who Should Attend: Newly Hired TJJD employees
In September 2012, the Correctional Management Institute of Texas took a big step forward in the use of technology and hosted its first live internet broadcast. The broadcast was such a success, CMIT has determined this is a great resource to the field and will continue to host internet broadcasts. Each broadcast will be recorded and once edited, it will be placed on the website for those that may have missed the broadcast to view or those that need to view it again.
| Status | Date | Title | Location | Hours | Fee |
| --- | --- | --- | --- | --- | --- |
| OPEN | Mar 30 - Apr 03, 2015 | Foundation Skills for Trainers | Huntsville | 40 | FREE |
| OPEN | Mar 30 - Apr 02, 2015 | Women in Criminal Justice | San Antonio | 21 | $225.00 |
| OPEN | Apr 12 - 15, 2015 | Texas Probation Association (TPA) Annual Conference | Austin | 16.25 certification hours (7.5 management hours) | Special |
| FULL | Apr 12 - 17, 2015 | Mid-Management Leadership Program | Huntsville | 40 | FREE |
| OPEN | Apr 12 - 15, 2015 | Juvenile Supervision Officer Basic Training | Huntsville,Texas | 28.00 | $150.00 |
| OPEN | Apr 12 - 17, 2015 | Juvenile Probation Officer Basic Training | Huntsviile, Texas | 40 | $150.00 |
| FULL | Apr 13 - 16, 2015 | Thinking For A Change Facilitator Training | Denton | 32 | FREE |
| FULL | Apr 27 - May 01, 2015 | Staff Safety Training For Trainers - Natural Response Control Tactics | San Antonio, Texas | 35 | $350.00 |
| OPEN | May 04 - 08, 2015 | Wardens Peer Interaction Program | Huntsville, Texas | 28 | $585.00 |
| OPEN | May 11 - 15, 2015 | 29th Annual Texas Jail Association Conference | Austin, TX | | Special |
| OPEN | May 17, 2015 | 2015 Association of Paroling Authorities International (APAI) Annual Chairs Meeting | Columbus, OH | | $100.00 |
| OPEN | May 18 - 20, 2015 | 2015 Association of Paroling Authorities International (APAI) Annual Training Conference | Columbus, OH | | Special |
| OPEN | May 19, 2015 | 2015 Association of Paroling Authorities International (APAI) Annual Training Conference - Shawshank Tour | Columbus, OH | | $34.00 |
| OPEN | May 20, 2015 | 2015 Association of Paroling Authorities International (APAI) Annual Training Conference - Southeastern Correctional Complex | Columbus, OH | | FREE |
| OPEN | May 20, 2015 | 2015 Association of Paroling Authorities International (APAI) Annual Training Conference - Ohio Reformatory for Women | Columbus, OH | | FREE |
| OPEN | May 27 - 28, 2015 | Adult Probation Resource Training Officers Planning Session | Huntsville | 13 | FREE |